Elevate your cat's playtime to a whole new level with our Interactive Feathered Cat Toy Box! This innovative automatic cat toy is designed to keep your furry friend entertained while freeing up your hands. Watch as your cat pounces, swats, and plays to their heart's content with the colorful and replaceable feathers, all while you relax and enjoy the show.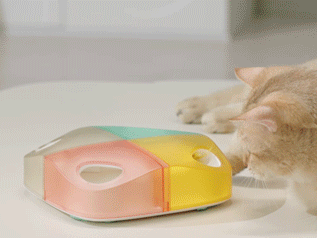 Automatic Playtime
This cat toy box is equipped with a built-in motion sensor that activates when your cat approaches, providing hours of interactive entertainment. Say goodbye to boredom for your pet!

Replaceable Feathers
The toy includes a variety of vibrant, detachable feathers that can be easily swapped out. Keep the playtime fresh and exciting for your cat by changing the feathers whenever you like.
Hands-Free Fun
The automatic design means you can go about your day while your cat enjoys playtime. No need to hold or engage with the toy constantly, allowing you to multitask or simply relax.

Vibrant Colors
The colorful feathers and bright design of the toy box are irresistible to cats, making it easy for them to spot and engage with their new favorite toy.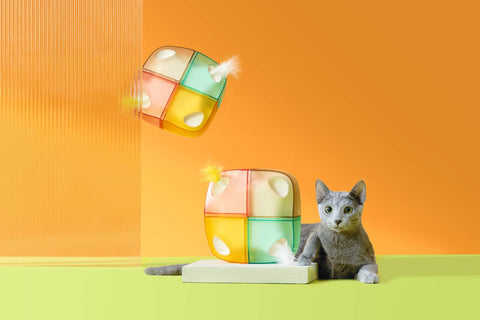 Sturdy and Safe
Crafted from durable, pet-friendly materials, this cat toy box is built to withstand even the most enthusiastic play sessions. It's safe for your cat and built to last.
How to Change Feather?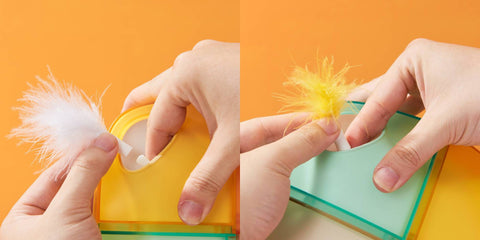 Bring joy and excitement into your cat's life with the Interactive Feathered Cat Toy Box. Watch as they chase, bat, and pounce on the colorful feathers, all while you enjoy the convenience of hands-free playtime. Get ready to witness your feline friend's happiness and vitality like never before!
What's included?
1 Cat Toy Box
2 Feathers

1 USB Data Cable